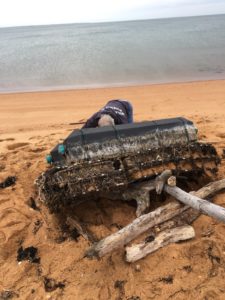 Response to the Suffolk County Aquaculture 10-Year Advisory Review
The members of this group continue to support local aquaculture yet not at the expense of use of the water. As a group of more than 500 local residents, and many others online who also support safety and navigational rights, we have submitted comments to the SCALP Program and the Trustees of East Hampton to express our views of the program as currently implemented in Gardiner's Bay.
Floating shellfish cages pose a threat to life and property by placing heavy, interconnected obstacles in open water; cages that rest on the bottom pose no such threat. We ask that you consider these additional points, as made during the formal SCALP review period.
---
1.       SAFETY: The area identified for the Oyster Leases is a high traffic area for recreational users. This use takes the form of all types of water craft from Stand Up Paddle boards to larger sail and power boats. These craft all travel at widely different speeds. The floating cages create a form of lanes as they are more like "Jersey Barriers" than single buoys thus forcing the various craft into the same areas. This creates an unsafe situation for the users of this natural resource.
2.       EXCLUSIVITY: The allocation of this area of the bay for 16 ten-acre leases, where floating gear can be used, takes away a natural resource from one group of people and gives it to another group, for their benefit without any discussion with or consideration for the current users. This is not the concept of sharing a resource.
3.       DIMINISHES VALUE: The installation of the surface cages is visually appalling and certainly damages the aesthetics of the bay as well as property values along the bay front. It is kind of like building an electrical substation across from your house.  Not what you thought would happen when you bought your house.
4.       UNFAIR DISTRIBUTION: There are no cages in approximately 95% of the East Hampton Town waters. With all that acreage why are they all clustered in one area of Gardiner's Bay?
Please Sign the Petition:
Keep Gardiner's Bay Safe
Submit Comment Directly to SCALP 
SCALP Coordinator
Thomas Ralicky (current)
Susan Filipowich (former)
Suffolk County Dept. of Economic Development
and Planning
Division of Planning & Environment
H Lee Dennison Building, 2nd Fl.
100 Veterans Memorial Highway, PO Box 6100
Hauppauge, NY 11788
631-853-4775 Tel
631-853-4044 Fax
Email: Thomas.Ralicky@suffolkcountyny.gov
East Hampton Town Board
159 Pantigo Road
East Hampton, New York 11937
Phone: 631-324-4141
Trustees of the Freeholders and Commonalty of the Town of East Hampton
P.O. Box 7073
267 Bluff Road
Amagansett, New York 11930
Phone: 631-267-8688
Fax: 631-267-2064
Email: atesar@ehamptonny.gov
You must use this email if you want to send attachments.
Comment Form: https://ehtrustees.com/contact/
---
We Support Responsible Aquaculture Development on the East End
As homeowners, business owners and frequent users of the waters of Gardiner's and Peconic Bay, we wish to make our voices heard concerning the use of floating oyster cages for commercial aquaculture development.
We support the shellfish industry for its obvious benefits to the environment and livelihoods to many who work on the water.
We are seeking to ensure that these make use of gear that rests on the bottom rather than on the surface, in order to preserve safe navigation and our scenic vistas for all users of our bays. The Suffolk County program authorizing the development of 10-acre oyster lease sites for aquaculture in Peconic and Gardiner's Bay allowed for placement of cages that rest on the sea floor, therefore any use of floating gear is not authorized and is illegal.
Next Steps...
Make your voice heard on issues impacting the public waters of Peconic and Gardiner's Bay.  Please join us in seeking responsible and harmonious aquaculture development in Gardiner's Bay.